Split Balance Disks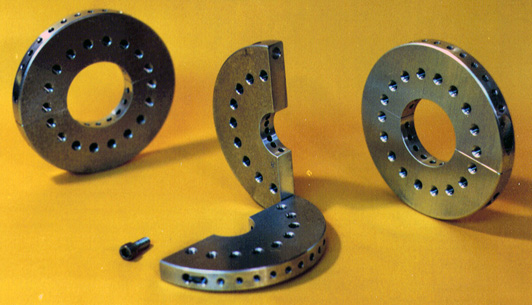 Got a vibration problem that you know is due to an out of balance condition? Attach these split balancing disks to rotating machinery shafts where normal balance planes are not easily accessible in the field. 4.5" diameter, 1/2" wide, anodized aluminum disks provide tapped holes at 10 degree increments for easy and safe attachment of trial or correction weights. Standard disks can accommodate shaft sizes up to 2". Standard disks can be ordered stock bored (1/2") or custom bored. Custom disks fabricated per your specifications. Additional charge for final bore.
Standard split balance disks (each)
$1195.00 (USD)
$195.00 (USD) for custom bore
Standard disks mounted on motor and pump shafts
Custom split balancing disks made per your specifications. Here are some examples:
Custom disks (standard disk shown in lower right).
Custom disks and correction weights fabricated from 17-4 Ph stainless steel.